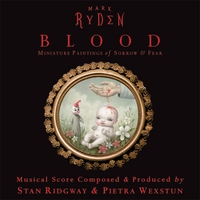 I've been looking (lusting after is a better phrase) to purchase the original musical score created by Stan Ridgeway for
Mark Ryden's Blood: Miniature Paintings of Sorrow and Fear
art show from a few years ago, for a very, very long time...well, er...at least circa 2007.
Here's my
previous entry
, for when I first blogged about discovering Mark Ryden's art.
Well, for some reason today was the day. I was able to link through from
Stan Ridgeway's website
, to a site that sold both the CD and the mp3s. So I quickly clicked the
mp3 option
without thinking twice--I mean $10 for 14 mp3s, for an original music score that I'd been after for some time wasn't that much of a price to pay.
I couldn't be happier with my purchase. The songs are just as haunting and ambient-sounding as I'd expect Mark Ryden would want them to be, in order to accompany each of his works during the showing. At around 53 minutes, I thoroughly enjoyed listening to the music while reviewing the paintings and drawings on Mark Ryden's website (not quite like being at an art showing, but close enough). This is truly an experience for the senses.
The only regret I have is not having been able to get the original souvenir, three-fold piece featuring the CD and some images from the showing, that was presented to guests attending the original art showing (image at top). Alas, we must be happy with what we have with no complaints, otherwise plan better next time and achieve!
For those interested in learning more about
Mark Ryden's
art, he could be described as today's dark innocence and gore version of
Edward Gorey
.
ta ta
- J