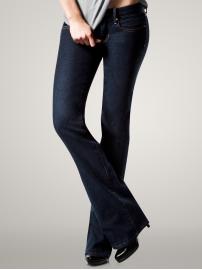 I bought a new pair of jeans at Gap on Monday. My trusty, year-old Classic Fit (2 pairs) boot cuts have shrunk beyond all savageable hope in the wash and dryer.
So I looked up a couple of types in dark color, and the ones I exited the store with are the curvy dark wash ones. They're stretchy and cling a little...not unlike roomy leggins.
NOTE: the chick at right is 10 sizes smaller than I and would, more than likely, carry off Milla Jovovich's dental bib bikini from the beginning of the second Resident Evil...and make it (or anything else) look good.
The pants turned up too long for my walks with Benny, so I roll them up twice and slip my boots on--though the fold tends to collect a fine scoop of snow per each leg, which requires a thorough shaking off upon my reentry into the maison.