I've gone coat nutty. I had two charcoal peacoats from '99 and '02 that I've worn out with holes in the lining, popped buttons...you can imagine the state they're in! So I was searching last week for a new peacoat.
Now never mind that I have lots of other types of coats. One from Target which is too thin for Chicago winters. One from Via Spiga which is my all-time favorite and is looking worse for the wear these days. One is a Via Spiga raincoat, too lightweight for the winter. There's the neat little "eskimo" coat, as I nick-named it, which I bought in Vancouver on new year's eve last year. And finally, there's my hunking, full length Calvin Klein that I got off a clearance rack back in the day--and which is a little hulking...I needed a peacoat dang it!
So back to the search. I found a
black peacoat by Jones New York
that I really liked from Overstock. But when it arrived...I was dismayed, as the bottom design was rather tucked in instead of flaring out a little or going straight down. My curves don't dig it, so now I can't close the bottom button :( Which is fine, mind you, for now, during this in-between weather we've been having. Layering and scarves help supplement and make up for the situation. I'm keeping this one.
So when I went looking for another coat that was a little longer, I found this great
gray, military style coat at Macys
. This is due to me on Monday or Tuesday, and I'm a little nervous to see if I like it or if I'm going to return it.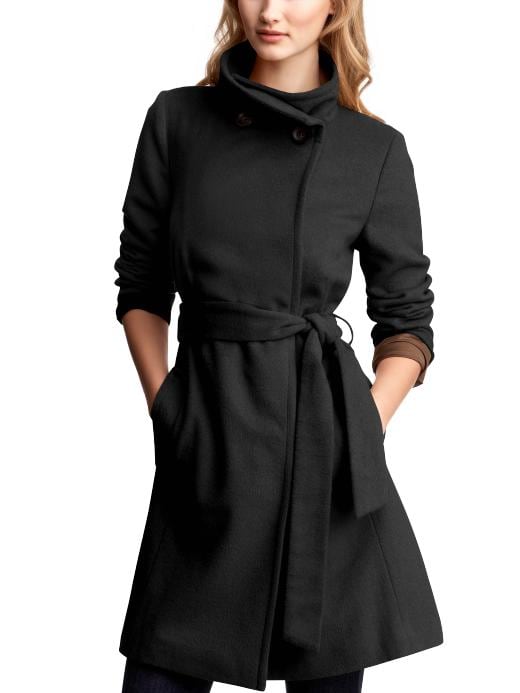 I found my dream coat at Gap today!
Then, serendipity strikes.
I had a half day off today, so, as I was finishing up my Starbucks hot chocolate walking around in downtown Naperville, leisurely. I decided to explore a couple of stores.
Well, Gap was fully stocked with some amazing new seasonal pieces. One of which is the coat you can see here on the right. It is so soft and delectable it's like being surrounded by hot chocolate rather than a medium-weight, fluid wool coat. Is it camel hair? Maybe. It's really amazing. It was a steal when I found out at the checkout that they took $78.50 off the price. Now that's what I call a positive impulse buy! LOL
I really hate shopping, but this coat shopping has been fun, and a learning experience.